Design Scope
Our design scope ranges from pre-feasibility study, feasibility study, concept design, engineering design, project budget for mineral processing projects.
The kind of minerals that we can provide plant engineering and design service includes: gold, copper, silver, coal, zinc, cobalt, barite, fluorite and etc.
Core Competitiveness
Our core competitiveness is the professional team includes process engineers, mechanical engineers, electrical engineers, controlling engineer, safety engineer, etc. Detailed drawing hub is out-sourced in Chengdu.
Design Philosophy
* Combine advanced experience and design fully according to local conditions
* Constantly optimize the design in order to make the least investment
* Using mature equipment and experience, refusing to make the project as a test
* Stable System
* Low Operation Costs
Previous Performance List(Gold/Part)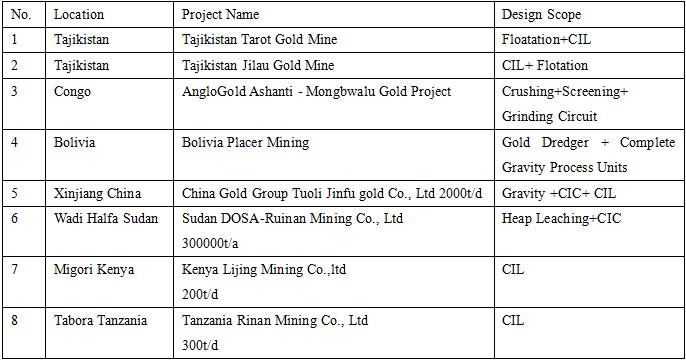 Common Methods for Gold/Copper Mineral Processing
1.Gravity Concentration
According to the difference between the density of ore grains, the gravity, fluid power and other mechanical forces are different in the moving medium, so as to achieve a mineral processing method of density sorting of ore group.
2.Flotation Concentration
Flotation is a wet selection method based on the physical and chemical properties of the surface of the mineral to the ground mineral after grinding.
3.Leaching
In leaching agent solutions, gold can be dissolved in the presence of oxygen (or oxidant), and producing a gold complexes.Using this characteristic, gold can be flow out of the mine by leaching solutions,and enriched by follow-up process.