Introduction
Horizontal vibration centrifuge is mainly used for separating suspending solid particle and liquid, and is applied for coal and other mineral process.
Model List
Model

THC1100

THC1300

THC1400

THC1500

THC1650

Feed granularity range

(mm)

0.5-50

0.5-50

0.5-50

0.5-50

0.5-50

Processing capacity (t/h)

140-180

180-210

210-250

300-350

370-410

Product moistures (%)

5-9

5-9

5-9

5-9

5-9

Slime water loss rate(%)

2.5-3.5

2.5-3.5

2.5-3.5

2.5-3.5

2.5-3.5

Ordinary life of screen basket (month)

3-6

3-6

3-6

3-6

3-6

Motor power (kw)

Drive motor

37

45

45

75

75

Vibration motor

2*3.0

2*3.0

2*4.0

2*8.4

2*8.4

Oil pump motor

0.75

0.75

0.75

0.75

0.75

Outline dimension (mm)

2586 ×2743×1877

2586 ×2743×1877

2959 ×2759×1917

3257 ×3125×2192

3314 ×3136×2211

Total weight

(kg)

7275

7324

8229

11430

12500
Features
*High efficiency, low moisture of product, slight damage of coal.
*Wed range of feed size, high capacity.
*Low energy consumption, to reduce the production cost of coal plant.
*Less wear part, slight smash of raw coal.
*Simple structure, firm and durable, and easy to maintenance.
*Reduce the height of plant, and investment cost.
*Vibration balance, few noise.
*Optimized design suitable for the actual needs of the current coal industry.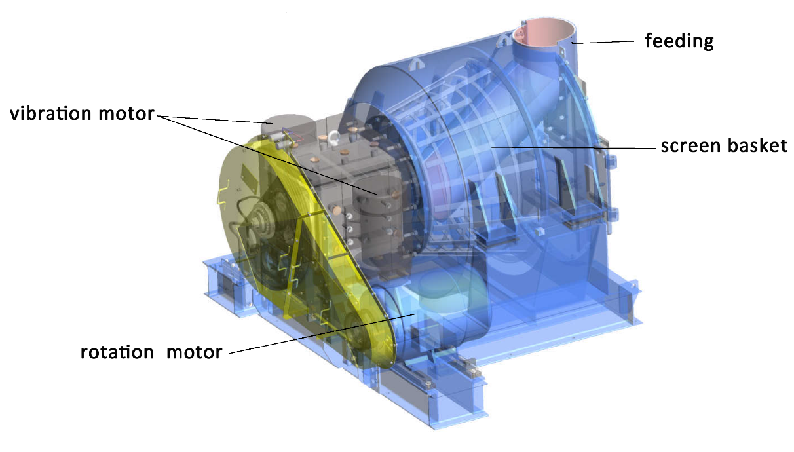 Structure Highlights
The key parts are from world-famous brand, performance well and service life long
Two individual vibration motor are adopted, power big and effective.
The amplitude of vibration motor is 2~6mm, and could be adjusted expediently.
The impact force on principle axis and bearing is slight, the vibration of screen basket is symmetrical.
The adoption of PP bumper block and shock-absorbent rubber sheet, reduce the noise and vibration of base.
Because of the design of combining feed chute and door plank of centrifuge, the mineral vibrate while conveyed through the chute to make sure it even and unconsolidated.
The rotary parts adopt the pressurized lubrication system with thin oil system, which combine three functions: lubrication, cooling and lubricating oil purification.
All wear parts are protected by polyurethane or high alumina ceramic lining, which prolongs the service life of the equipment.
The hinge door plank and the special tool for tearing down the screen basket make the exchanging of screen basket easily.
Realize intelligent control of mechanical & electrical integration of equipment, on-line monitoring of bearing temperature, early warning, improving the reliability of equipment operation.
Motor position and opening direction can be flexibly selected with users.