Introduction
The automatic, energy-saving, efficient and rapid series chamber membrane filter press is a kind of intermittently operating equipment for pressure filtration applicable for the solid-liquid separation of a variety of suspension liquid. It is of broad applicability, good separation effect, simple structure, easy operation, safety and reliability. It is widely used in coal washing, petroleum, chemical, medical, food, and other areas, as well as in the treatment of industrial waste water from textiles, dyeing, pharmaceutical, paper making, leather, MSG and municipal sewage, and other areas that require solid-liquid separation.
Design Highlights
*Integral design by combining mechanical, electrical and hydraulic principles, the long stroke cylinder makes it easier to pull multiple plates at one time, to shorten discharging time greatly.
*By using variable frequency motor and the discharging time is shortened, higher energy efficient is ensured.
*Automatic control of filter plate pressing, filtering, squeezing, back flushing, plate releasing, unloading and other procedures.
*Equipped with membrane plates to vary the filter chamber volume through water or air pressure, and then squeeze the filter cake for lowering water content.
*Reinforced PP filter plates and made through mould press and heat seal, which are of the state of the art technology.
*All the electrical and hydraulic components can be configured with first-level brand.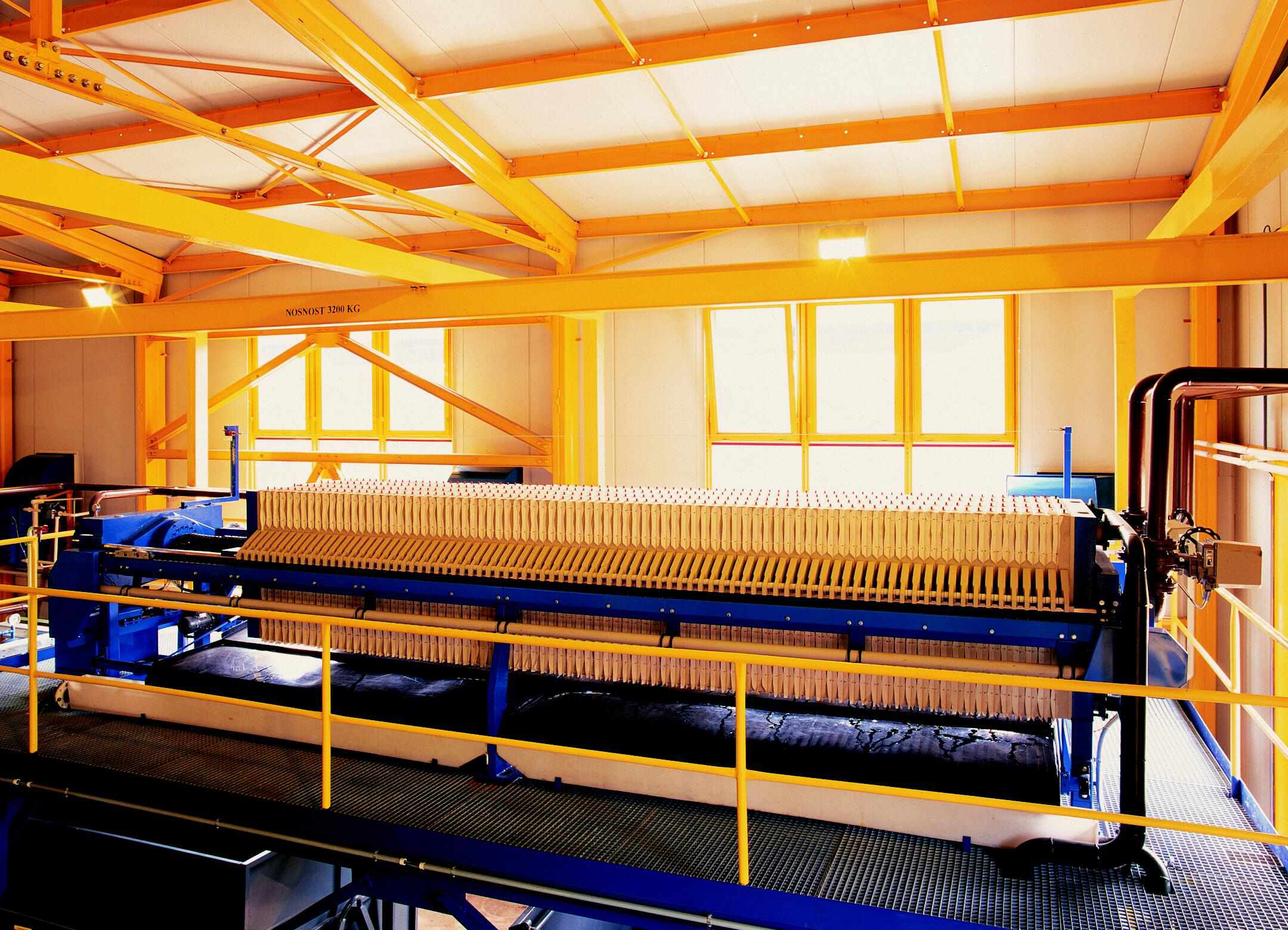 Structure Description
1.Frame
Filter press frame is made up of seat, pressing plate, thrust plate and main beam.
The material of seat, pressing plate, thrust plate chooses Q345B medium plate and formed by carbon dioxide protection welding, they are machined after backfire and treated with high speed centrifugal ball blast descaling and iron scale. After painting MIO epoxy build primer, paint acrylic polyurethane coating directly to make it have the best adhesion. They have the features of anti-corrosion, steady performance, high hardness, anti-impacting etc. The factor can be up to 2.2 times after over pressing testing which can make sure the safety and steady during operation.
The material of main beam is Q345 bridge steel, adopt welded box construction, and manufactured by making use of submerged arc auto-welding technology. All the spare parts that need painted are dealt with high speed centrifugal ball blast descaling and iron scale. After painting MIO epoxy build primer, paint acrylic polyurethane coating directly to make it have the best adhesion.
2.Hydraulic System
The main functions of hydraulic system include auto pressing of oil cylinder, auto pressure
holding, auto releasing and etc with features of safety, reliability and easy for maintenance.
The hydraulic elements of auto pressure holding system and main control valves adopt products of famous company which can ensure all performance index of filter press, so as to make the filter press be operated without leakage and malfunction with features of easy handling, agility, safety and reliability.
Hydraulic cylinder is made by 27SIMn seamless steel pipe. Their precision can be up to level of IT7 after process of rough inner machining, refined machining and pressurized rolling. Design calculated safety coefficient≥5 . Oil cylinder bottom is automatic welded by welding robot, use ultrasonic testing equipment to perform flaw detection. Each cylinder must be through 25MPa pressure test before leaving factory.
Pistons are made by steel #45, the matrix surface hardness of piston rod can be up to HRC48-50,which can increase the using life of piston rod at least 5 years, with feature of high hardness, anti-wearing and long life-span etc.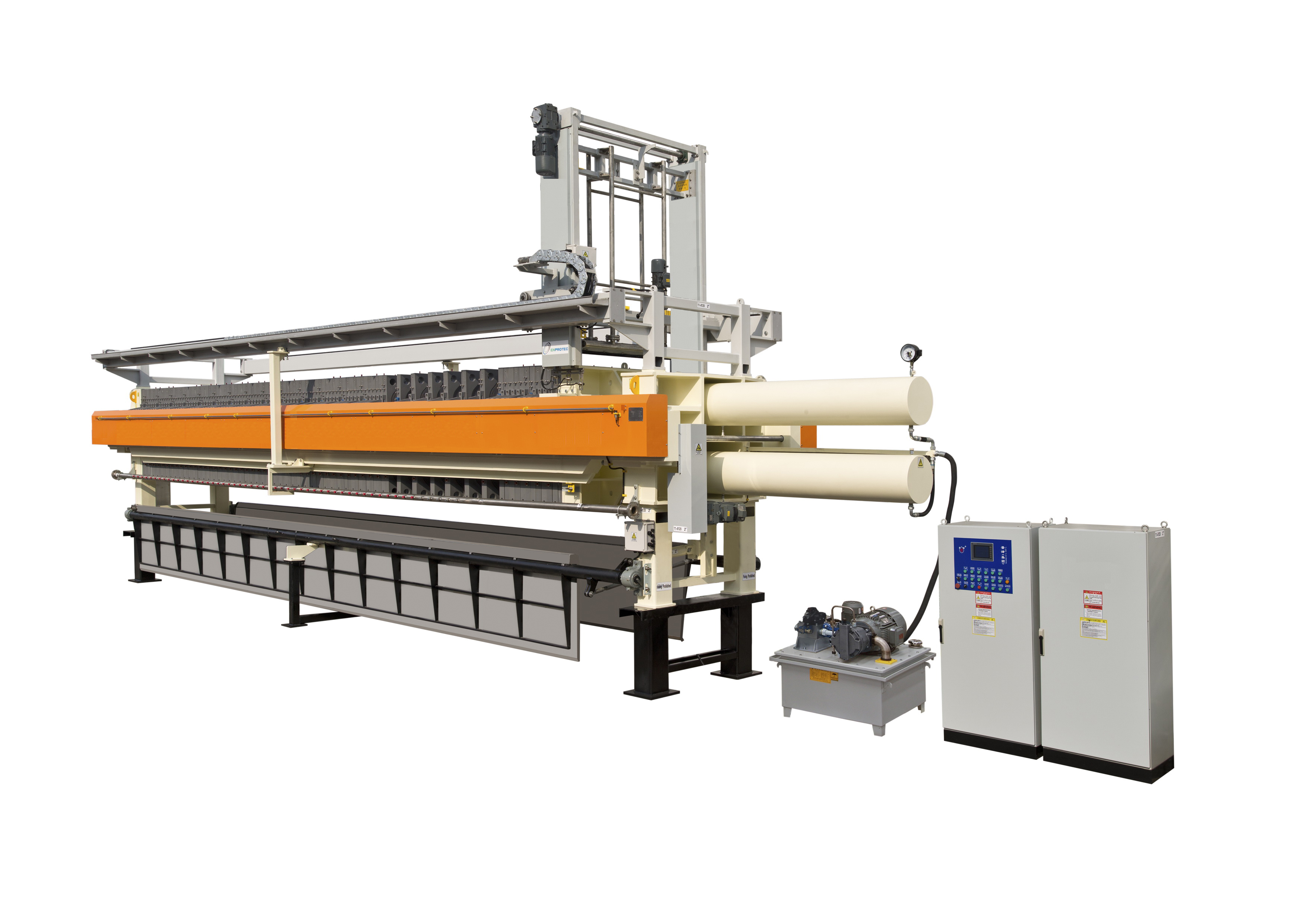 3.Electrical Control System
The control part adopts system design concept, and adds auto running and check function. According to the actual working conditions, the control part has three working states for operators to use easily, that is, manual working state when installation and debugging; auto working state when auto running, and maintenance working state when the equipment is checked. To prevent error, every movable part has action interlocking function to protect when running automatically. After auto check and diagnosis of the system, the system will always check whether the executive components is in normal state, if there is any exception, it will alarm on the display screen, to ensure the safe and
reliable running of the filter press. PLC core control parts adopt products of Siemens and reserve DCS remote interface; thus realized remote monitoring and operation.
The functions can include: auto pressing and releasing, auto high pressure unloading, auto pressure holding, auto feeding, auto squeezing and discharging, auto blowing, auto cake discharge, auto plate shifting and taking, pause ,and the full course of close and open of drip tray. It can be controlled both manually and automatically, also can add infrared light curtain protection program according to requirements of clients.