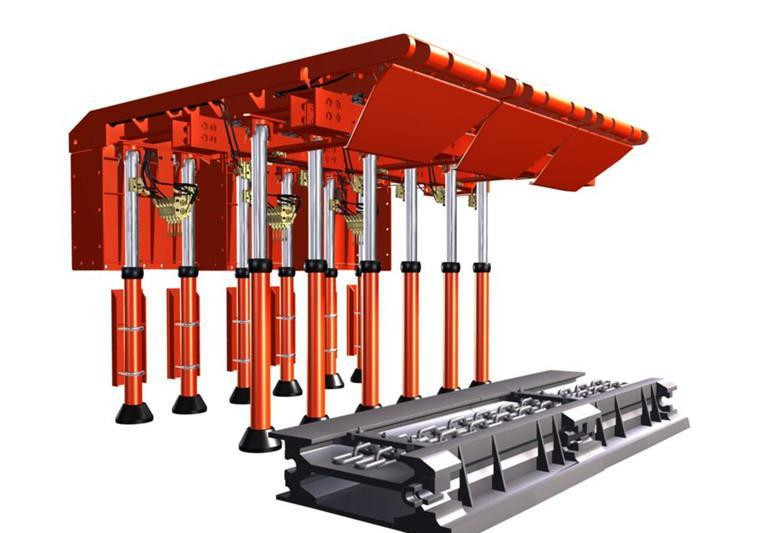 Features of Cantilever Roof Support
1.Large Supporting Area
Because the top beam section is integral box-type structure with dimension of 0.96m width and 2.6m length. The supporting area is more than 96%, which is same as fully mechanized longwall mining support, so the support can be used in broken roof working face. And there will be no roof leakage of high-grade working face and cantilever roof support working face.
2. Fast Advancing Support Speed
The advancing velocity of working face is faster due to the simple moving method. And it can absolutely meet the speed requirement of mechanized mining working face.
It takes about 1~2 minutes to finish the whole 3 moving steps, which is equaled to the fully mechanized longwall mining.
3. Good Stability
Because full working face is linked as a whole through the beam system, it has good stability, working face can make sure the support will not fall. If there is head space above certain support or it is not supported well, overall moving beam and top beam suspension system make it will not fall, so the working face completely avoid the phenomenon of support's skew and fall, security is greatly increased.
Operation Sequence of Cantilever Roof Support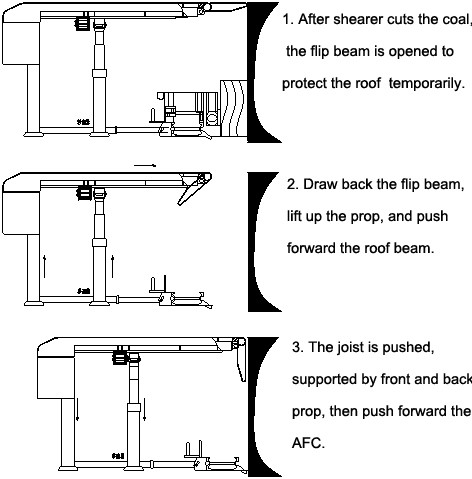 Technical Parameters of Cantilever Roof Support
Item

Unit

Parameter

Remark

Basic Framework

End Socket

(Excessive)

Support Height

mm

1600-2400

Support Length

mm

2600

3200

Support Width

mm

960

Adjustable Beam Length

mm

800

Distance of travel 800

Center of Support

mm

1000

Support space 40mm

Pillar Diameter

mm

Φ125

Bi-directional hydraulic prop

Pillar Number

pc

4

Advancing Support Step Pitch

mm

800

Whole Frame Weight

ton

2.55

Supporting Intensity

MPa

0.52

Working Resistance

Kn

2000

Setting Load

Kn

1545

Column Shoes Diameter

mm

300×300

Control Mode

Centralized control

No liquid injection gun

Advancing Support Mode

Neighboring support operations
Hydraulic Control System of Cantilever Roof Support