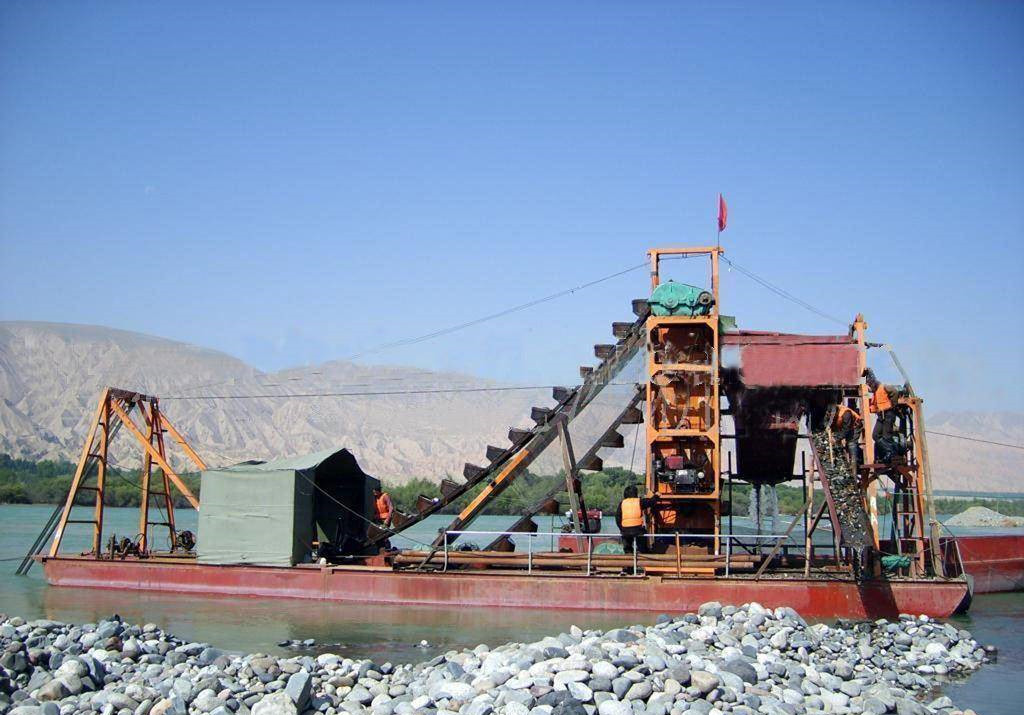 Introduction of Chain Bucket Gold Dredger
Bucket type dredger is applied for alluvial and placer gold mining in waterways with high percentage of clay and gravels. Customized according to specific requirements for dredging depth and capacity. The dredger is composed of several gravity concentrators.
The gold dredger we produce is both self-propelled or non-self-propelled, portable cutter suction dredger. The hull uses dismantle and box-like structure, which equipped with horizontal shifting devices, cutter ladder lifting devices, spud devices, deck crane and so on. It can also be equipped with anchoring poles and trolley devices. Generally, it has functions on dredging, conveying and discharging of mud or sand. It can produce certain amount of vacuum by the centrifugal pump.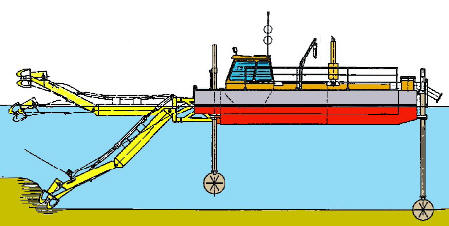 Applied Condition of Chain Bucket Gold Dredger
| | | |
| --- | --- | --- |
| No. | Capacity | 300m³/h |
| 1 | Gold size | scale 40% ,55% dust, and 5% small stones |
| 2 | Dredging depth | 20-30 m |
| 3 | Sand and stone ratio | sand proportion 60%, stone less 1/2" |
| 4 | Bigger stone size | 40 cmts ratio or 30 kg |
| 5 | Stone size | 20% stones 30cmt diameter 15% stones 12 to 15 cmt diameter and 5% sediment |
| 6 | Sand bed depth | 5 - 15mts |
| 7 | Middle river depth | 15mts- 25 mts deep |
Technical Parameters of Main Parts
1.Gold Dredger
| | | |
| --- | --- | --- |
| No. | Item Name | Specifications |
| 1 | Production Capacity | 300 m³/h |
| 2 | Total length | 54.0 m |
| 3 | Width | 12.5m |
| 4 | Height | 9.0m |
| 5 | Draft | 1.2m |
| 6 | Max dredging depth | 25.0m |
2.Dredger Pontoon
| | | |
| --- | --- | --- |
| No. | Item Name | Specifications |
| 1 | Length overall | 48 m |
| 2 | Breadth | 3.5 m |
| 3 | Depth | 2.0m |
3.Main Pontoon
| | | |
| --- | --- | --- |
| No. | Item Name | Specifications |
| 1 | Bottom and side plate thickness | 6 mm |
| 2 | Deck plat thickness | 4 mm |
| 3 | Rib | 6*6 angle iron ,Distance 60mm |
| 4 | Stand rib | 14# channel |
| 5 | Rib in bottom | 14# channel |
| 6 | Bay | 2.5m*2.0m Plate thickness 4 mm |
| 7 | Deck plate:safety thread | Thickness 4mm |
| 8 | Balance cabin | 8pcs |
4.Generator
| | | |
| --- | --- | --- |
| No. | Item Name | Specifications |
| 1 | Make | Cummins, China |
| 2 | Model | KTA19-G3A |
| 3 | Power | 400 KW |
| 4 | Fuel consumption | 60KG/H |
| 5 | Speed | 1500R/MIN |
| 6 | Motor | Stanford |
5.Big Arm Winch Power
| | | |
| --- | --- | --- |
| No. | Item Name | Specifications |
| 1 | Model (motor) | 750 |
| 2 | Factory | Rongcheng daxing |
| 3 | Power | 22 KW |
| 4 | Speed | 1440r/min |
| 5 | Reducer | ZQ750 type |
6.Bucket Power
| | | |
| --- | --- | --- |
| No. | Item Name | Specifications |
| 1 | Model | Y280S-8 |
| 2 | Power | 75KW |
| 3 | Speed | 760r/min |
| 4 | Bucket Reducer | ZQ1200 type |
7.Main Anchor Winch
| | | |
| --- | --- | --- |
| No. | Item Name | Specifications |
| 1 | Forward winch l | 500 one set ; 400 two sets |
| 2 | Power | 15KW 11KW |
| 3 | Speed | 1440r/min |
| 4 | Reducer model | ZQ500 type (1 set) ZQ400(2 sets) |
| 5 | Match steel wire length | 200m,diameter 18 mm/16mm |
| 6 | Big arm winch power | ZQ750 type |
| 7 | Match power | 22 KW |
| 8 | Speed | 1440r/min |
| 9 | Match steel wire length | 230m ,diameter 18 mm |
8.Positioning Anchor Winch Power(Manual)
| | | |
| --- | --- | --- |
| No. | Item Name | Specifications |
| 1 | Model | YL-200 |
| 2 | Match steel wire | Length 80m ,diameter 10mm |
| 3 | Match anchor | 100kg/pc (lips type ) |
9.High Pressure Water Pump
| | | |
| --- | --- | --- |
| No. | Item Name | Specifications |
| 1 | Model | IS200-150-250A |
| 2 | Power | 30KW |
| 3 | Speed | 1440r/min |
| 4 | Head | 20m |
| 5 | Water flow | 300m³/h |
10.Bucket
| | | |
| --- | --- | --- |
| No. | Item Name | Specifications |
| 1 | Quantity | 63 pcs |
| 2 | Bucket width | 100cm |
| 3 | Bucket month length | 200cm |
| 4 | Bucket depth | 60cm |
| 5 | Work speed | 15 bucket every minute |
| 6 | Capacity | 0.33 m³/bucket |
| 7 | Bucket material | 13#Mn Alloy steel |
| 8 | Bottom thickness | 1.0cm |
| 9 | Bucket mouth thickness | 2.0 cm |